Premium HDMI Cable Certification Program
Premium High Speed HDMI Cables Tested to Ensure Quality for Feature-Rich 4K/UltraHD Content
Products are reaching the market with the latest HDMI-enabled high-performance digital audio and video features, and a vital component in successfully delivering those features is the HDMI cable. The Premium HDMI Cable Certification Program is the new program from the creators of HDMI technology. It encompasses additional and enhanced cable testing as well as an authentication and verification program.
Cables are tested to ensure they support the full 18Gbps bandwidth from the HDMI 2.0b specification plus an EMI test to ensure cables minimize interference with wireless signals.
The program is designed to give end users confidence when purchasing new HDMI cables for their 4K/UltraHD products that may include features such as 4K@60Hz, BT.2020 and HDR. Participating HDMI Adopters can promote their ATC-tested High Speed HDMI Cables as Premium High Speed HDMI Cables or Premium High Speed HDMI Cables with Ethernet using a unique anti-counterfeiting authentication label on their products.
Top 5 Reasons to buy HDMI cables from the Premium HDMI Cable Certification Program
Performance and Value. Premium HDMI Cables are relied upon for higher performance and value, and are the only cables to be tested and certified by HDMI Authorized Test Centers to ensure they support high-bandwidth HDMI 2.0b specification-enabled features.
Testing is Comprehensive. Cables are tested to the full 18Gbps and with an EMI test, and every length of every model line is tested and certified.
Trust the Cable with the Label. Only Premium HDMI Cables are allowed to display and promote the official Premium HDMI Cable Authentication Label.
The Power of Verification. Anyone can use the HDMI smartphone scanning app to verify the cable's certification and product information.
Be Future-Ready. Cables certified under this program ensure installations are ready for today's 4K/UltraHD environment, and are future-proofed for the performance needed when equipment is upgraded or replaced.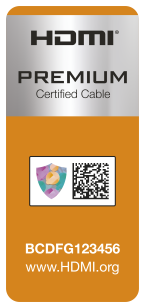 Trust the cable with this label!